Together, we can work to get life back on track without breaking the bank.
We'll get your check cashed and quickly have you on your way
Avoid overdraft fees and credit card debt with prepaid cards.
Applying online is quick & easy!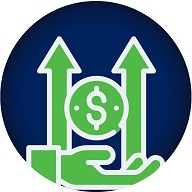 Installment
Loans
Get EZ Money With Payday Loans and More
FAST, FRIENDLY SERVICE.
There are few worse feelings than being hit with a big bill before payday. When unexpected costs come up and you require cash quickly, EZ Money in Council Bluffs can help residents of Omaha with payday lending.
Our loan process is simple and fast, getting you out the door quickly with the money you need in hand. Your local EZ Money is prepared to offer the best financial service for your circumstance.
EZ MONEY OFFERS LOANS FOR WHEN YOU NEED EMERGENCY CASH
Apply for a loan from EZ Money and get the cash you need quickly. Our payday loan option is designed to help cover expenses that come up between paychecks. 
WE OFFER A VARIETY OF FINANCIAL SERVICE OPTIONS:
CHECK CASHING MADE EASY
At EZ Money of Omaha, check cashing is a hassle-free experience. Unfortunately, most banks only operate during normal business hours, and it can become difficult to get to the bank on time. That's why we offer extended hours and cash several different types of checks to get your hard-earned money in your hands as quickly as possible. Contact EZ Money of Omaha. Check cashing should be a painless experience!
TURN OLD GIFT CARDS INTO NEW MONEY
There is nothing beneficial about holding on to unwanted gift cards. Clean out your wallet and bring in those unused gift cards to EZ Money and we'll exchange them for cash! Our process is simple and easy – all you need to do is bring your gift cards (and a proper form of identification), and we do the rest. One of our representatives will assess the amount and turn those balances into cash!  
PROUD PARTNERS OF WESTERN UNION
When you send money to a friend or family member, you want to be sure the transfer is safe and secure. At EZ Money, there is no need to worry—we have the resources to make your money transfer thanks to our partnership with Western Union. They're a trusted company with a successful track record of keeping money transfers safe and secure. 
AVOID INTEREST PAYMENTS WITH PREPAID CARDS
Prepaid cards have many of the same benefits as a credit card without the added expense of interest accumulating on outstanding balances. You can still enjoy the benefits of online shopping and manage your money better without carrying cash.
NO MORE LATE FEES–ENROLL IN AUTO PAY!
With automated bill pay from EZ Money, you'll never see another late fee again. We make paying your bills and making your deadlines on time easy for you. Forget late fees and unnecessary charges by stopping by your local EZ Money location today!
BITCOIN & CRYPTOCURRENCY ADVICE
Stop in to any EZ Money location to get expert advice and walk you through the entire Bitcoin transaction process. Bitcoin and other forms of digital currency can be confusing and complicated. However, our team has the knowledge to provide education and answer all your questions so that you have a better understanding of Bitcoin.